Menu
---
Cake Flavors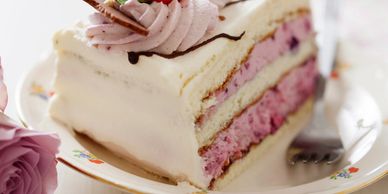 White cake – plain
White cake with vanilla bean
White cake with lemon zest & poppy seeds
White cake w/almond flavor
White cake w/hazelnut flavor & nuts
White cake w/chocolate chips
Chocolate cake
Red velvet
Lemon zest cake
Orange zest cake
Carrot cake

Gluten-free and Lactose-free cakes available upon request.
Mousse Fillings
Raspberry
Chocolate
White chocolate
Strawberry
Mango
Vanilla cream
Blueberry
Coconut
Mocha (coffee)
Passion fruit
Mixed berry
Lemon
Hazelnut chocolate
Mascarpone cream cheese mousse
Salted caramel mousse
Cream cheese, traditional

Additional Items
Fresh fruit of your choice (seasonal) can be incorporated with the fillings at an extra charge.


Buttercream fillings are available and can be customized upon request.


Handmade edible flowers at an extra charge.


Pricing: Available upon request.